Home/News

All Free Fonts

All Premium Fonts

2,800 Font Zip File

New Free Fonts

Font Categories
Antique & Gothic
Brush & Marker
Calligraphic & Script
Computer & Electronics
Decorative & Display
Drop Caps
Funky Décor
Grunge
Handwriting
International
Kids
Music, Film & TV
Seasonal
Symbol & Dingbat
Typewriter
Alphabetical
A
B
C
D
E
F
G
H
I
J
K
L
M
N
O
P
Q
R
S
T
U
V
W
X
Y
Z
#
Font Xplorer

Designers

About ActiveFont

Font links

Support/F.A.Q.

Contact Us

Link to us

About

Font Xplorer
Need to find a perfect font for best friend's birthday card? Want to get a detailed overview of all the fonts installed on your system? Or find that font installation in Windows is too difficult for you? Want to print professionally designed sample sheets listing all your fonts? Font Xplorer comes to the rescue. Designed for both beginners and professionals, this new font tool should find a place in every computer.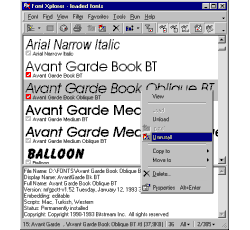 Some features:
Browse both installed fonts and not installed fonts from disk.
See what each font looks like, so it's very easy to compare fonts
Special user text compare mode allows you to find the perfect font in seconds
Load, install, unload, uninstall, manage fonts
Print pre-designed, professional sample sheets and font listings
Save bitmap images of fonts
Search for duplicate fonts, CRC check
Rename font files to use a font's full name with undo support (from arialbi.ttf to Arial Bold Italic.ttf)
Comprehensive font info is available (full name, copyright, embedding info, available character sets etc.)
Advanced, resizable character map that shows all a font's scripts and allows you to zoom in on any character. You can even copy a symbol to the clipboard as vector image or rich text
View extended font metrics information
View the installation status of fonts to instantly determine if that font is already installed
Filter fonts by character set, so you only see symbol fonts for example
Mark fonts and optionally view only marked fonts "
Integrated Repair Wizard solves most common problems with font
Extensive support for calling external programs, support for different variables in callable command lines
Fully customizable toolbars and menus with Office 2000 look & feel. Mix menus and toolbar buttons, create new toolbars, reposition them etc.
And much more for you to discover...
Price? Surprize! Font Xplorer costs only $19.95 and comes with 30-day money back guarantee!
"This is the most wonderful font viewer I ever seen and tested. It is exactly what I've been searching for. I'm a font fantatic, and for a very long time, trust me, a really long time, I have been looking for a font installer and manager with the half of the features that the Font Xplorer has. Thank God and the world wide web I finally find you. Guys, you have no idea how much your tiny program is helping me..."
You can find more info from Font Xplorer homepage. Download free demo verison here (about 815 KB).
More font-related software
FontLoader from Moon Software is a free shell context menu extension that allows users to load/unload/install and uninstall TrueType fonts directly by right-clicking on a font file or folder containing fonts. In addition, it can help you to load/unload your font groups (organized into disk folders) on demand by just clicking on the program icon in the system tray area near the clock.
Font Creator Program from High-Logic Software is a small and simple font editor. With it, you can create your own fonts or modify existing ones.
Font properties extension from Microsoft is a free shell extension that adds several new property tabs to the standard properties dialog box of a font file. These include: information relating to font origination and copyright, the type sizes to which hinting and smoothing are applied, and the code pages supported by extended character sets.